Those days had become history when freelance jobs were recognized as a part-time job meant to bring a few extra bucks to your pocket. A lot of educated people, mostly the youth, are now seeking to construct their full-time careers as freelancers, and why not? There are so many benefits, after all.
In recent trends, the freelance jobs market caught its pace, especially during the pandemic with 46% growth in new freelancers between the 1st and 2nd in 2020, says a report by Payoneer, which is a popular financial services firm located in the U.S.
As per the International Labour Organisation (ILO), around 400 million jobs were lost across the world during the pandemic. Freelancing has shown some bright rays of light to professionals. The U.S. currently estimates 15 million freelancers, followed by India, which is the second-fastest-growing freelance jobs market. By 2025, this market of freelancers is further anticipated to grow by $20-30 billion, according to the report.
We'll help you make your way through the competition, and ensure that you put your efforts only in the right department, and even more importantly, do earn as per your expectations.
1) Freelance Web Developer (Coder, Programmer)
Talking about the most evergreen, in-demand careers in the world, its Web development and programming. Everybody wants to have a website and mark online presence, and that's impossible without the support of a web developer. Web development requirements may stretch from developing a personal log or a humongous project for any huge organization. The need for qualified professionals is at the top right now.
Freelance developers often specialize in various areas depending on their interests and experience: For example, front-end developers convert code into graphic interfaces, and on the other hand, back-end developers focus on scripting, databases, and architecture building.
A few in-demand languages are there, such as Python, Ruby, Java, Swift, etc., in which proficiency is needed, and if you feel you can do so, then you certainly can build a robust freelance web developer profile. It depends on your talent.
Skills: The skills that you need to become a Web Developer are:-
Proficiency in back-end development.
Firm with testing and debugging skills.
Full knowledge of programming language JavaScript and HTML
Outstanding designing experience and user experience (UX), user interface (UI) skills.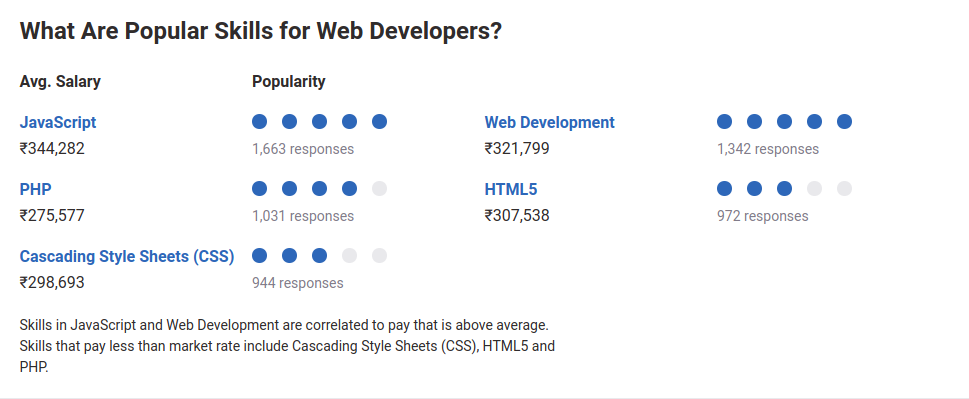 Salary: According to PayScale, the average annual salary for a job as a freelance Web developer is ₹491,408/year.In addition,according to glassdoor the average salary of a Web developer in India is ₹20,000 per month.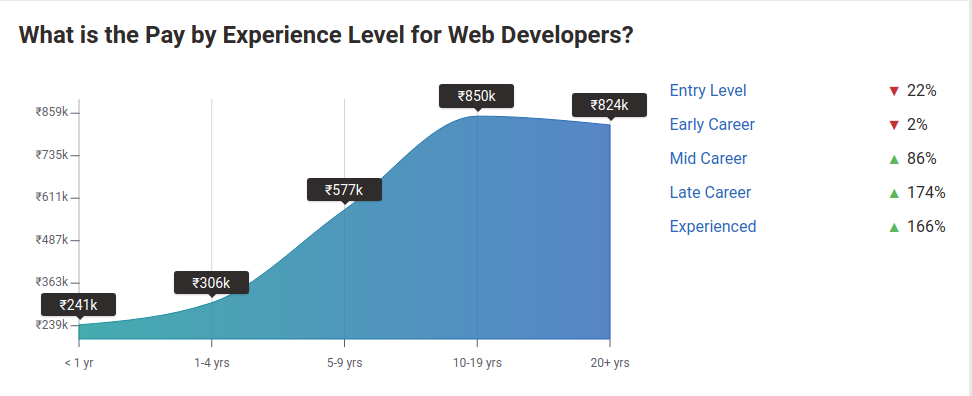 Source
2) Freelance Graphic Designer Jobs
Creative design is an extremely popular field of work that includes graphic design, web asset creation, motion, etc. Experienced freelance designers find more work than they can actually tackle, but there's a catch. You'll need a diverse portfolio to succeed in this department, and flaunt your prospective clients and tell them what you're capable of producing.
Design enthusiasts can become freelance designers and grab the chance to gain some highly valuable experience through freelancing, and that would add more Karizma to your resume in the future.
A solid design portfolio is crucial and something you build over time, so keeping yourself on top of industry trends, showing dedication towards learning new tools, and sharpening your skills before getting into the freelancing world is key. Certain types of coding are more popular than others. So, you can just start on with your strengths, and later, learn those "intricate" languages to broaden your meaning in the future.
Competition in the freelance graphic designing job is actually very high, as there are numerous freelance designers in the market. Try to begin with some small projects, such as marketing materials, posters, and infographics for small businesses.
Skills: The skills that you need to become a Graphic Designer are:-
Creative and passionate about design.
Outstanding networking and people skills are needed.
Expertise in working with design tools such as Adobe Photoshop, Adobe Creative Clou, Procreate,etc.
Exceptional negotiation and communication skills.
You need to have organizational skills.

Salary: According to PayScale, the average annual salary for a freelance Graphic Designer is ₹336,000/ year. In addition, according to Glassdoor, the average salary of a Graphic Designer in India is ₹22,000 per month.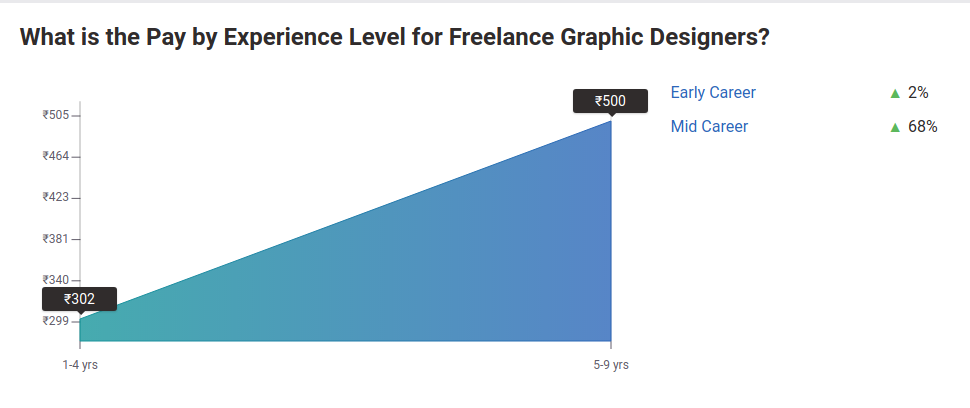 Source
3) Freelance Content Writer Jobs
Talking about the present-day gig economy, writing is still among the most popular jobs, and the slogan of "content is king" is holding equal importance. With that being said, companies allot hefty budgets for generating high-quality articles, guides, press releases, blogs, and other sorts of written content.
So, what's needed to become a freelance writer?
You need to have highly developed writing skills, a talent for storytelling, and stellar grammar. As with designers, having a strong portfolio is essential to display your work and attract potential clients.
If you're a journalism enthusiast or simply love writing and blogging, you could search for freelance jobs as a blog or content writer. Though you'll gain amazing experience, you should also not expect to be credited for all the content written by you.
However, on the positive side, freelance writing offers you much flexibility regarding schedule, and the changes in this field are huge. Besides that, you could write blog posts for small brands or individuals who will readily pay you (actually, pay you truly high, if you're skilled enough) to get attractive content for their websites. Some clients even agree to share profit on conversions if your content writing helps them in generating sales and elevating conversion percentages.
Skills: The skills that you need to become a Content Writer are:-
Strong grasp in communication and verbal skills.
Good writing and editing skills.
Competent in working with various online content platforms.
Salary: According to PayScale, the average annual salary for a Freelance Content Writing is ₹285,460.In addition,according to Glassdoor, the average salary of a Content Writer in India is ₹17,586 per month.
4) Freelance Digital Marketing Jobs
Digital marketing is a whole ocean in itself, and there's huge scope as a freelancer for any digital marketer. Anything from running paid Instagram and Facebook campaigns to overhauling the whole website's messaging actually come under marketing.
There's an enormous and thriving community of marketing professionals in the freelancing world. You can't even imagine how much consultants and strategists earn in the freelancing field. What's common in all of them? Honed digital skills.
Marketers know all the touchpoints in the consumer journey, can generate ideas, optimize digital strategies, and do much more, and that's the reason they're paid well even as freelancers.
For attaining success as a freelancer digital marketer, your skills should include digital fundamentals in any of the forthcoming – user experience, conversions, SEO, data analytics, CRM marketing, etc. The diversity of skills needed in the marketing space allures the demand for all sorts of marketers across various industries. If you're a fresher, you can try some quick courses in a given field and then start your freelancing journey.
Also, if you're obsessed with putting time in social media, you better start using it (and learning) in such a way that you can open the doors of income through the same channel in the future.
Skills: The skills that you need to become a Digital Marketer are:-
Excellence in FB, Instagram, Quora, or video marketing.
Should be familiar with the usage of analytical tools like Moz Pro, Semrush, Google Analytics, etc. to track website traffic and performance.
In depth knowledge of Search Engine Marketing(SEM), and Search Engine Optimization(SEO).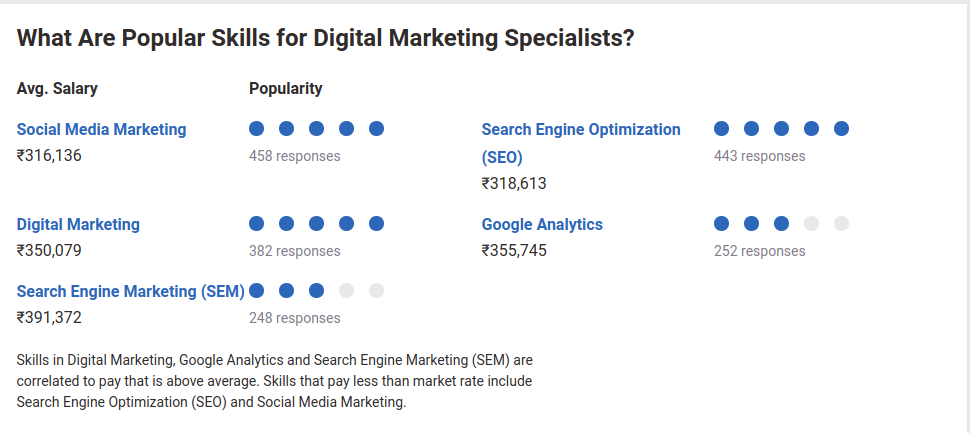 Salary: According to PayScale, the average annual salary for a freelance Digital Marketing is ₹347,720/ year.In addition,according to Glassdoor,the average salary of a Digital Marketer in India is ₹20,000 per month.
5) Freelance Accountant Jobs
You'd be stunned to know how much a good freelance accountant or bookkeeper earns and how high is their demand. With the detail-catching eye, industry awareness, excellent knowledge, and a strong grasp of best practices and tax laws, self-starting accountants will conveniently be able to enter the SMB market without much issue. Besides that, remember that other freelancers also seek help with their bookkeeping. Isn't that fact amazing?
Skills: The skills that you need to become an Accountant are:-
Organizational skills.
Need to have analytical skills.
Knowledge of Microsoft Excel and various other spreadsheet platforms.
Able to handle balance sheets and P&L statements
Salary: According to PayScale, the average annual salary for a freelance Accountant is ₹249,478/ year.In addition,according to Glassdoor, the average salary of an Accountant in India is ₹24,000 per month.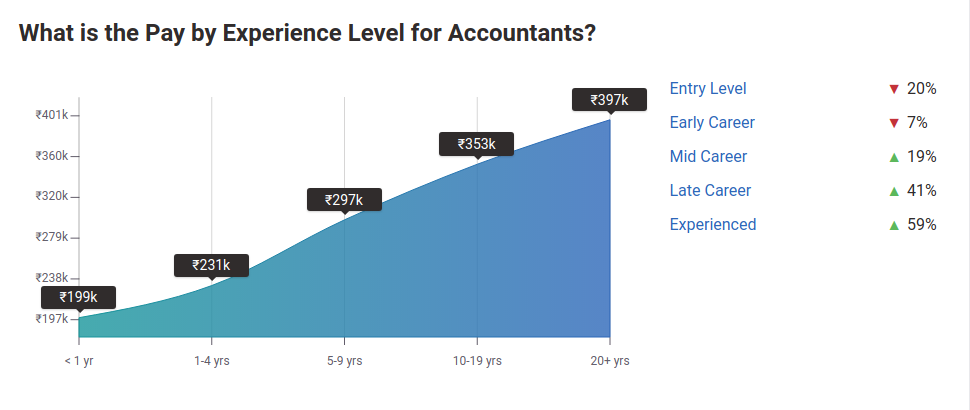 Source
6) Freelance Tutor/Teacher Jobs
Now, here is something every fresher will be comfortable with.With numerous online learning websites popping up every day, you can tap any subject you're good at. The majority of online teaching platforms will ask you to set up an account in your name. You'll get the pay as per the number of sessions you conduct for your students.
You're free to teach at the level you want, from KG-12 students to peer-to-peer tutoring. Online teaching isn't that tough, though. You can schedule your session timing as per your own convenience, and you don't need to worry about completing any fixed number of hours as you're paid per session.
The most amazing part is that you don't even need to leave your apartment or dorm room to teach anyone. You can become a tutor in some indirect ways as well, by creating a course video and further selling it to various online learning platforms.
Skills: The skills that you need to become an Online tutor/teacher are:-
Technological literacy.
Communication skills.
Teaching students to apply the concept.
Assessment and evaluation skills.
Time management skills
Salary: According to PayScale, the average annual salary for a online tutor/teacher is ₹299,750/ year.In addition,according to Glassdoor, the average salary of an online tutor/teacher in India is ₹20,272 per month.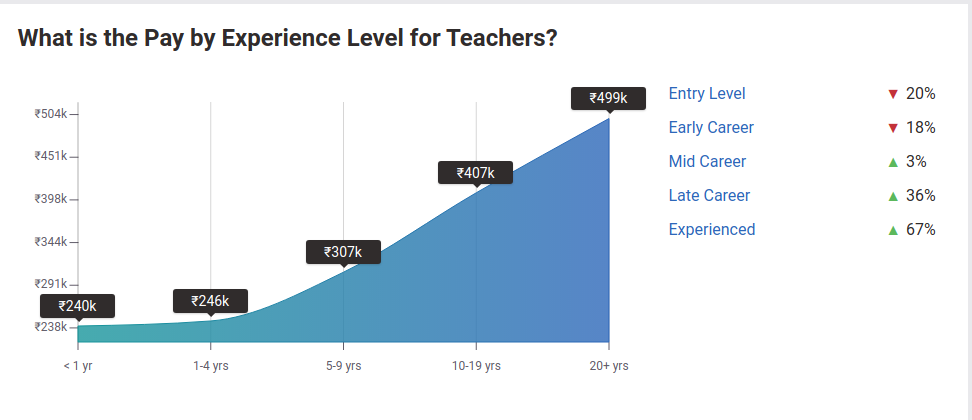 Source
7) Freelance PR (Pubilc relations) Job
As a brand communications or public relations specialist, you won't fall short of freelance opportunities. Many freshers don't even consider this one as an opportunity in the freelancing field, but actually, there's more juice than you think. This diverse field covers product launches, media relations, brand activations, native advertising, awareness campaigns, and much more.
You need to be experienced in storytelling and have a strong understanding of the competition. It also helps in case you have a strong list of media and industry contacts to leverage.
Skills: The skills that you need to become a PR are:-
Excellent interpersonal skills.
Excellent communication skills both in writing and orally.
Presentation skills.
Initiative.
Good IT skills.
Awareness of various media agendas.
Ability to prioritize and plan effectively.
Creativity.
Salary: According to PayScale, the average annual salary for a public relation manager is  ₹521,646/ year.In addition,according to Glassdoor, the average salary of a public relation manager in India is ₹₹33,687 per month.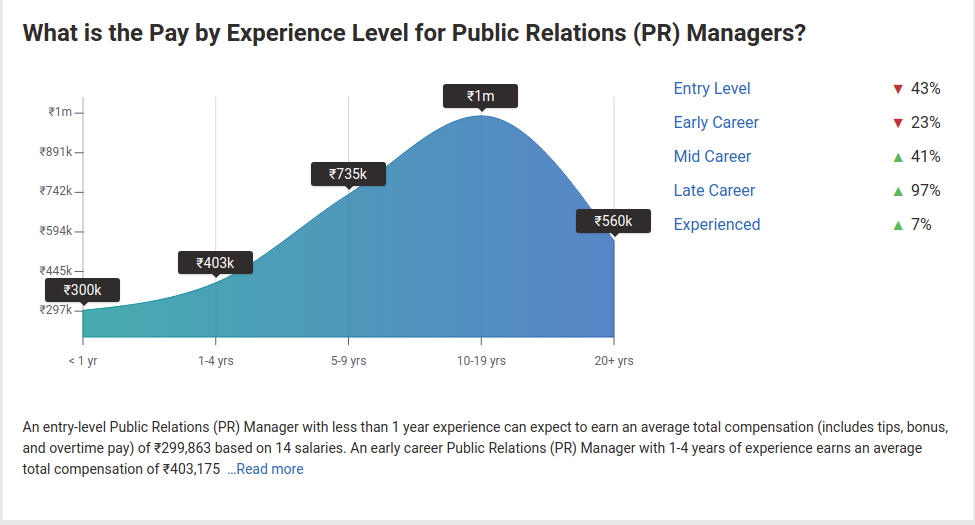 8) Freelance Copywriter And Proofreading Jobs
We already discussed the chances of gaining success in the freelancing world, being a content writer, and here, we're going to discuss two more skills identical to content writing.
Yes, copywriting and proofreading have greater scope than you think, and these actually prove to be luxurious work than many others listed here. However, the words prove to be correct only if you're equipped with the right skills.
Skills: The skills that you need to become a Copywriter or Proofreader are:-
Your level of English language should be high.
An Eye For Detail to spot errors in others' as well as your own work.
A Wide Vocabulary.
Research Skills.
Great Listening Skills
The Ability To Cherish Different Points of View.
The same skills you'd need for proofreading. So many companies and individuals are getting their work done through content writers, and the majority of them do need to proofread whatever is written. You get paid very well for your skills in this department.
Salary: Salary, at beginner level, you make Rs.2,50,000- Rs.3,00,000 per year, while after developing some skills and gaining some experience, Rs.2,50,000- Rs.3,00,000 is what a proofreader makes per year.
9) Freelance Software Developer Jobs
Yes, software development is different from web development (which stood the first in this list. Software Developers write source code, debug it, perform its QC and troubleshooting.) If you've got a firm grasp of different languages like PHP, XML, etc., then freelancing is certainly worth trying for you.
There is a vast pool of opportunities for you, and if you're talented enough, you can enter some amazing subjects of software development such as mobile application developers, application developers, etc., you can make bundles of money on freelancing sites.
Software development is a long process in most cases, and this makes the life of a freelancer pretty easy. You don't have to crack too many orders. Just grab one or two good ones, and then keep working on them, and make money.
Skills: The skills that you need to become a Software Developer are:-
Programming skills(able to work in different languages).

Problem-solving skills are needed.

Mathematical aptitude.

Organizational and time management skills are needed.

Teamwork skills and self-development skills are required.

Salary: According to PayScale, the average annual salary for a freelance Software Developer is ₹491,408/ year. In addition, according to Glassdoor, the average salary of a Software Developer in India is ₹600,000 per month.
Source
So, from where to start your freelancing journey and get freelancing jobs?
There are actually plenty of ways to start your freelancing journey, and you truly don't need to feel baffled in case you take some time in dividing which way to choose.
There are numerous websites to start and further support your freelancing journey, and we've put some time into evaluating the most ultimate freelancing website, where you won't just start earning quickly but also make a great sum of money per month.
But keep in mind, hard work is needed everywhere, and you can't skip that.
Upwork markets itself as the largest freelance talent marketplace on the planet. Freelancers on Upwork make profiles outlining their experiences and skills, along with their job portfolios and histories. Clients post job listings outlining the details of their projects and what they're searching for in a freelancer.
Guru first came into existence in 2001 as a passion project. This American-based company operates from Pittsburgh, Pennsylvania, and it caters to freelancers from various nations. It's designed to attract a high-level and expert base of freelancers and clientele, rather than mixing in many cheap job listings.
Pretty much as you do in Upwork, you can create a freelancer profile and begin bidding on jobs posted by various clients. Freelancer.com reports over 50 million users as of 2021. It's a tremendous choice for those who love to work remotely and introduce themselves to the freelance marketplaces.
Mechanical Turk is Amazon's raid into the online freelance marketplace. Similar to Upwork, Freelancer, and various others, Mechanical Turk links freelancers with businesses who seek small jobs—known as human intelligence tasks (HITs) on the website.
Toptal, a short form of top talent, is an excellent marketplace geared toward experienced, elite freelancers, and most freelancers earn between $50 and $250 per hour. The appraising process is more involved, needing experience checks and an interview. No need to feel depressed if you're a fresher because you'll certainly make a way through if you're skilled and talented. Jobs posted on Toptal generally are geared toward software development and finance.
All jobs on Fiverr cost $5 (as you may have already guessed), or in increments of $5. Fiverr proves to be perfect for those just beginning the hassle and looking to build a quick portfolio. Unlike some other platforms, freelancers and clients can post listings. Hence, a client might have a job – "Write one 700-word article," and a freelancer's version would state, "Will write one 700-word article."
Freelancermap focuses just on IT projects. It includes web development work, social media, game development, etc. Many, but not all, of these projects there are actually remote. Undoubtedly, Freelancermap is a cool 'starter point for the freshers.
Concentrating on flexible job opportunities, FlexJobs screens all job postings before they put them on their website. This means jobs are nearly guaranteed to be legitimate, which isn't always the case everywhere. Huge and reputable companies like NBC and CNN use FlexJobs to hire talent.
What are the big benefits of being a freelancer and doing freelancing jobs?
Beholden to a single firm or boss, you could have the ability to decide to live anywhere as a freelancer. You can even travel while working, and that's such a great joy. While a few freelance jobs may need you to be near your customers, it's possible to discover customers wherever you go.
For instance, if a potential client visits you with a job that appears complex and doesn't pay well, you have the right to turn them down. You can't do that when you're hired full-time, right?
You aren't under any obligation to take on any projects which you don't desire or aren't confident or satisfied with.
We'd repeat, as a freelancer, you are your own boss. You select your workload, your schedule, your own dress code, and every other component of the way you run things. There are many who don't feel it that comfy to be in formals whole day long while working. Who knows, one may perform better wearnin airy shorts (Yes, you can smile).
Nevertheless, freelancing isn't a holiday. It is your choice to be certain to keep your customers happy, keep tabs on marketing, seek new customers, and negotiate prices. You might realize that keeping on top of that means you work twice a few weeks and very others. But, it is all under your final authority.
Flexibility of working hours and days
A few of us feel lethargic in the afternoon, and for some of us, evening time decreases productivity. Furthermore, a few of us even love to work at night.
The ability to set your own hours can be particularly appealing. If you have children, you might opt to do your job while they are in school and once they have gone. If you want to remove Tuesday since the weather is fine and work on a Friday instead, it's entirely your decision. In general, provided that the job for your clients is finished by the agreed-on deadlines, you enjoy complete control over how and when you do it.
Compensation and earnings control
Asking or requesting a boss for a salary raise is something that hardly anyone likes to do. As a freelancer, then there is no need to ask your boss for a raise. You Set your prices. You also select how much work you choose.
To a certain level, however, rates and volume of work have been subject to market forces. You can not request astronomical reimbursement without decreasing your list of potential customers.
But lots of freelancers discover they can increase their prices over time since they perform more work and put on a powerful reputation.
Sitting in a nice green garden beside a squirrel, and working on the laptop. Or in front of a swimming pool, we can say. That's possible only for a freelancer.
As you are not beholden to a single company or boss, you might have the ability to choose to reside anywhere as a freelancer and even to travel while working. Whenever some freelance jobs could expect you to be near your clients, it's possible to find clients wherever you move.
A huge part of freelance work is done digitally, so you can be fully remote–with customers globally –and reside and travel wherever you please while finishing it.
Freelancing means you Take on various jobs from several customers. Each job brings something fresh to the table and offers an opportunity to expand your skill set. You'll probably end up learning new things as you move.
You May feel more halted in a traditional full-time job and that might not necessarily entail continual learning and development. Freelancing provides a lot more opportunities for growth as you tackle a larger assortment of project types.
You may also Want to improve your skill on your own. As a freelancer, you are able to choose how and if You do this instead of waiting for annual company coaching. Many Online classes and opportunities are out there, and you've got the freedom To make time for them as you see fit.
You can test a small business concept or startup
Actually, freelancing opens the door for infinite development, which you certainly can't attain being on a job. Freelancing allows employees to construct their client base and successfully develop their own companies. As a freelancer, you are able to experiment and try unique offerings and services to determine which ones make you money and earn more clients than others.
After dipping your feet wet freelancing and studying the landscape, you may Turn to a freelancer service to broaden your client base further.
How do freelance work, and one can get freelance jobs?
You won't face any strain in understanding the working of the freelancing process. Freelancers offer some sort of service, in return for which they accept payment.
For instance, if we hired any photographer to take new clicks for me, I could pay that freelancer for that session, and that's actually the end of it.
Sometimes freelancers are supposed to work a set number of hours per day, week, or even month. The term used for that arrangement is called "retainer."
A retainer means when you retain the right or services to someone's time. Many legal professionals prefer working on retainers. Every month, they dedicate a set amount of time to their client, no matter if the client uses that full time or not.
It's truly not just one of the simplest but also most pure forms of entrepreneurship: the buyer pays freelancers a fee directly in return for a specific service or outcome they receive.
Disadvantages of becoming a freelancer and doing freelance jobs are:-
The very first thing, which you may already know, is the issue of uncertainty, both in terms of time and earning. Once you get your profile updated on any freelancing site, nobody can say at what exact time you'll start getting work. It may take one month of the trial also, and you may crack a wonderful client within your very first hour also.
In the second case, no one (not even you) can estimate how much you'll earn and what time it may take for you to reach your targeted earning. Now, if you get some awesome and high-earning projects in your field, you may make double your previous salary in the first month itself. It all depends on your efforts, the way you communicate, convince, and yes, a bit of luck as well.
Conclusion
Freelancing clearly means being your own boss. It's all upon you to detect a way to fill your time and get some paid work, no matter if it's client direct, subcontracting, or via any jobs marketplace. There are dozens of different sorts of freelance jobs, and more brands are hiring freelancers than they ever did before.
For many out there, freelancing has proved to be an incredible way to make money for living at your own terms and conditions. However, the trade-offs you face are that you don't enjoy financial and health benefits as you do in permanent jobs.
As you can notice, freelancing spans a great range of industries and careers. In case you want to carry forth this sort of work, begin with some research to ensure that there's a freelance market for your experience and skills. Check freelancing job boards, platforms, and talk to other folks within your industry. After clearly understanding the opportunities available to you, you can begin drafting a clear pathway to begin your freelancing career.