How Does the COVID-19 Pandemic Affect the Metropolitan Cities?
COVID-19 first affected metropolitan cities and then spread to other cities in India. This issue forced the government to implement a lockdown in India's cities. Due to the nationwide lockdown, the hiring process has experienced a significant drop. 
According to the JobSpeak Index published by naukri.com, the demand job market registered a 26% reduction in hiring activity. 
The commercial capital of India, Mumbai, which is known for its highly active lifestyle, registered an 18% drop in hiring activity due to the lockdown and closing of businesses. 
Delhi, the capital of India, faced a 26% drastic drop in hiring activity, followed by Chennai with 24%, and Hyderabad with 18%.
When did the Slow-Down Start in Hiring Activities?
Detected the first sign of a drop in hiring activity in January 2020. There was just a 5.75% growth, followed by 0% growth in February, followed by 18% negative growth in March. 
The Naukri Job Speak is a monthly index that calculates hiring record activity-based on-demand job listings on the website.
Industry-wise Hiring Statistics
The nationwide lockdown affected the hiring process heavily. Below is statistical data that shows how the hiring process in many industries has been impacted, showing the sharp fall during the COVID-19.
An industry that was extremely affected due to lockdown was hotels and traveling, with 56% of the loss. Retail stores followed this at 50% and automotive and ancillary industries at 38%.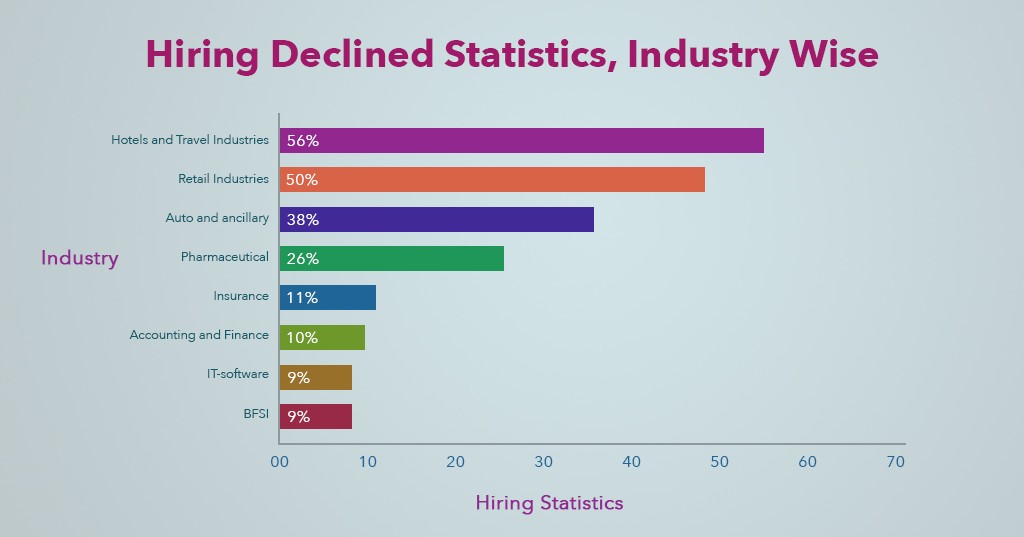 Other industries that have suffered around a 10% loss include insurance,  accounting, banking, and other financial services.
On the other hand, some industries experienced positive growth during the lockdown. For instance, The pharmaceutical industry made a massive jump of 43%. The IT sector also grew by 14% due to the demand for professionals whose work has moved from public buildings to working from home.
Shifting of the Hiring Process to Virtual Platform Amid the COVID-19 Pandemic
Companies are shifting from face-to-face interviews to virtual hiring platforms during this lockdown. Most interviewing has moved to either telephonic or video calls. This process is a way of keeping everyone safe, practicing self-isolating guidelines, and making interviews faster and more convenient. 
Most companies are only hiring for essential roles. Yet, the nation needs essential businesses for the public's health and safety, especially during this current pandemic crisis.
Jobs that are Going to be In Demand After the Lockdown
In this lockdown, COVID-19 has changed the way we operate. Most organizations are using digital platforms to conduct work and meet with employees. This lockdown has taught us how to work virtually rather than in person. However, some roles are in high demand during this pandemic and will continue to be in high demand long after this pandemic ends.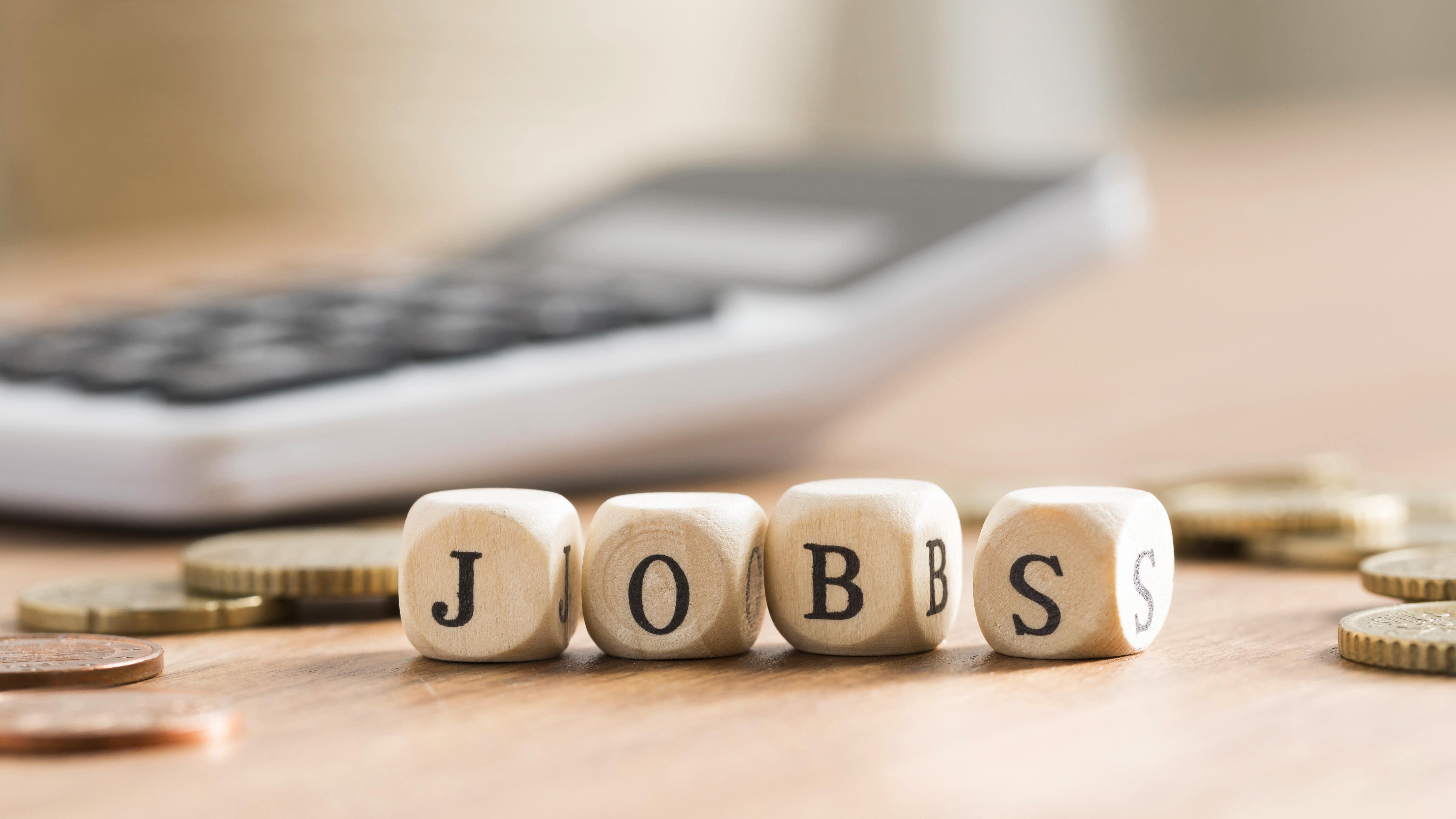 IT jobs
There is a massive demand for IT job roles due to the lockdown, which also will be after the pandemic. In addition, many companies have shifted their working platforms due to lockdown. IT support is crucial during this time since most have pivoted to working from home. New methods are working in smoothly, and IT support is required.
IT is not just about computer coding. There are multiple IT roles to choose from within this field. A few of these include System Administrator, Full Stack Developer, and Data Scientist, among many others. A description of a few main roles is listed below. 
System Admin
System Administrator: The System Administrator is responsible for maintaining an organization's computer network. Duties include installing and managing computers, servers, and security. Many organizations will need a skilled System Administrator to check and maintain the organization's network after lockdown.
Full-Stack Developer
A Full-Stack Developer can work on the back-end and front-end of the website. They are responsible for front-end technology, databases, working with API technology, basic design ability, etc. An individual skilled in Full-Stack Developer responsibilities can perform a variety of tasks.
Data Scientist
The Data Scientist's demanded job is to work in close coordination with the company head or project managers. This role requires understanding the goal of a project. Data Scientists design predictive models to obtain data for an organization's needs. Data Scientists can share insights with the project team and other relevant employees. The individual role provides accurate data to develop new efficient software.
Strategy Consultant
According to a recent Forbes magazine article, many organizations adapted to a new model of completing work, and because of that, some pre-planned programs got affected. An experienced Strategy Consultant can advise an organization using his industrial knowledge. 
After the lockdown, many organizations will likely make a new strategy for projects. At that time, we will hire strategy consultants to ensure that each prospect is evaluated and provides a solution for unforeseen issues. 
Financial Expert 
A Financial Expert is responsible for collecting financial information to provide advice regarding expenses. 
After the lockdown, most organizations will need to redesign their budget plans and create a new strategy for investing in resources. A Financial Expert can reevaluate the value of the company's investments and develop an improved strategy. 
Digital Marketer
A Digital Marketer is responsible for designing and executing marketing campaigns that promote a product, brand, services, etc. Increasing brand reputation on digital platforms is the main responsibility of a Digital Marketer.
Digital Marketers will be in demand. Many companies have shifted to digital platforms. More are jumping on board, if not already. This role is responsible for promoting an organization or brand on digital platforms and social media. 
Promotion and purchase are becoming more and more digitalized—including everything from shopping and communicating to education and paying bills. To build a strong customer base and have a technological presence through digital platforms, the Digital Marketer is crucial for any company.
Human Resources Executive
The HR Executive is responsible for managing human resources.
HR Executives need to counsel employees and manage pay due for various reasons like different working hours and holidays. Companies will resume all pending hiring processes, reevaluate performance appraisal, manage the training of new hires, and manage current employees' tasks after the lockdown. Organizations will always need HR Executives, as they know how to handle these tasks efficiently.
Cybersecurity Expert 
The Cybersecurity Expert is responsible for protecting important data from cyber attacks and hackers. 
Companies put their data in clouds to give employees access to information at working from home. Important data can be hacked or attacked by a virus in such cases. A Cybersecurity Expert monitors the network and prevents any kinds of malicious attempts. 
Even after the lockdown, it's impossible to move data from clouds to private servers quickly. A Cybersecurity Expert will be needed to monitor data and maintain security. 
Conclusion: After the Lockdown, an Abundance of Work will Follow
Plenty of opportunities after lockdown. If you aim for a career in any of the above areas, utilize your time wisely. Go into depth with research on the role you desire. Take online classes on the subject or video chat with experts already working or who have experience in that field. The possibilities are limitless, and the abundance of demand jobs available will soar.